Day 1 – ARRIVAL HANOI
Welcome to Hanoi! Upon arrival, you'll be greeted by the Camp team at the airport, before heading off with your new friends to check into your accommodation base for the next few days. With an epic fusion of French, Chinese & Vietnamese influence, you'll be sure to love the area.
What's a first night without a welcome meal? And this ones on us! Finish the evening with a few drinks down the famous Ta Hien Beer Street, the street that 'never sleeps' – it's the perfect way to get to know your new travel buddies and immerse yourself in Vietnamese culture!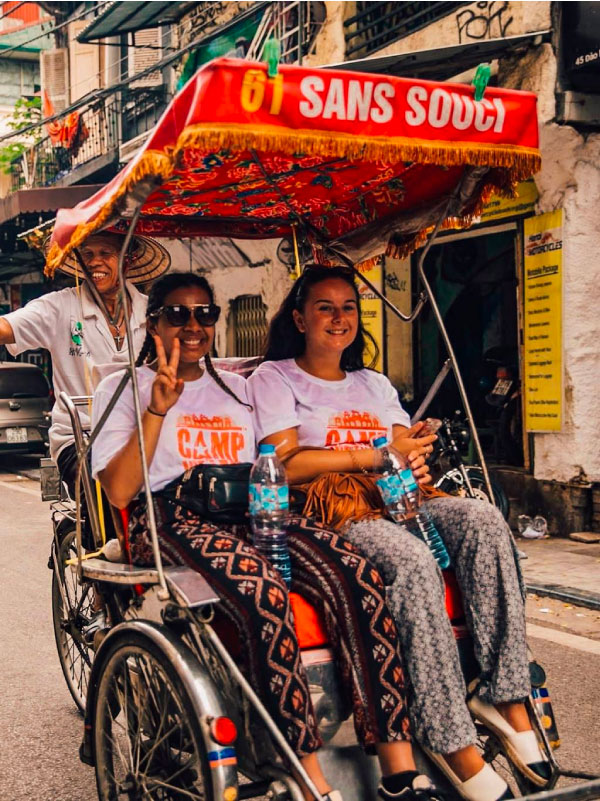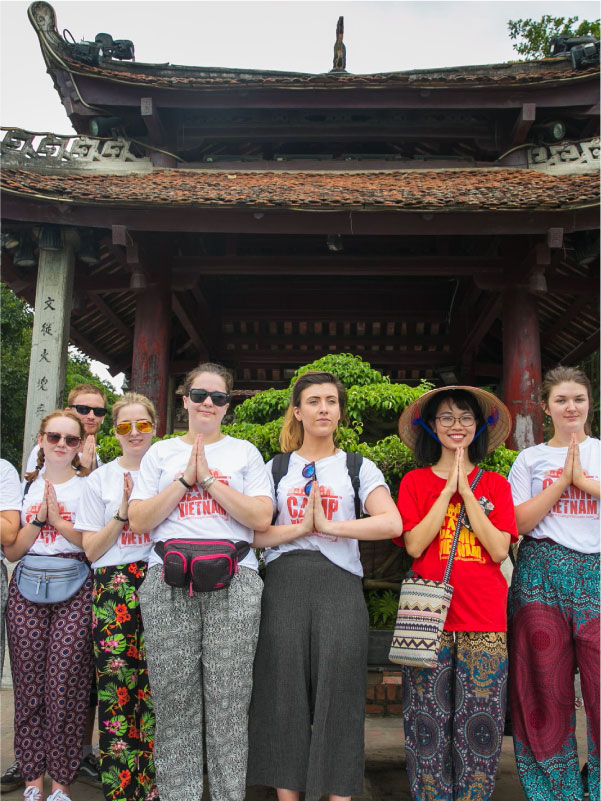 Day 2 – OLD QUARTER CITY WALKING AND CYCLO TOUR
Time to explore Hanoi like a local, enjoy both a walking and cyclo tour weaving through a maze of 36 trading streets filled with colourful goods. As the oldest area of Vietnam, Hanoi's Old Quarter has a history that spans 2,000 years and represents the eternal soul of the city. 
On the tour, we'll visit some historical features of ancient Hanoi, such as the beautiful Hoan Kiem Lake, the Quan De Temple, Hoa Lo Prison, then Train Street. These tours are an Instagrammer's heaven, with plenty of architectural landmarks, parks and natural landscapes to photograph – we visit all the hotspots on this jam-packed day!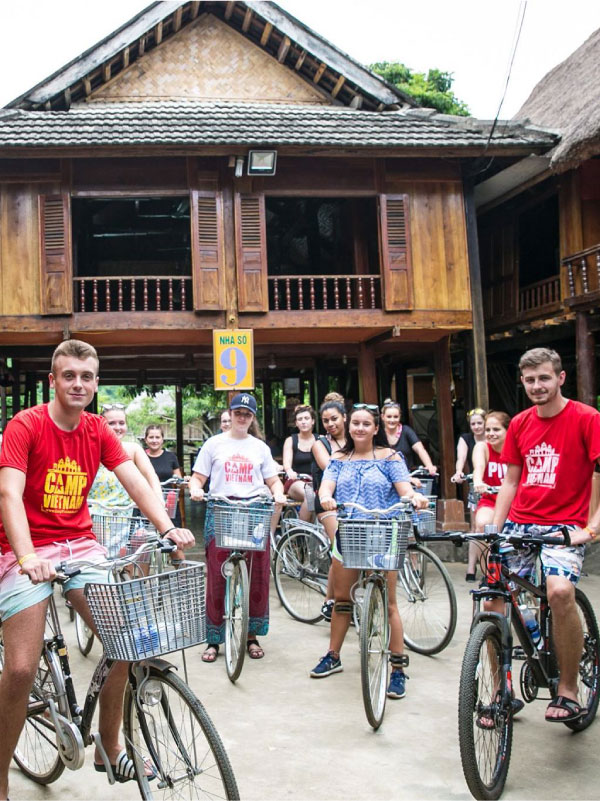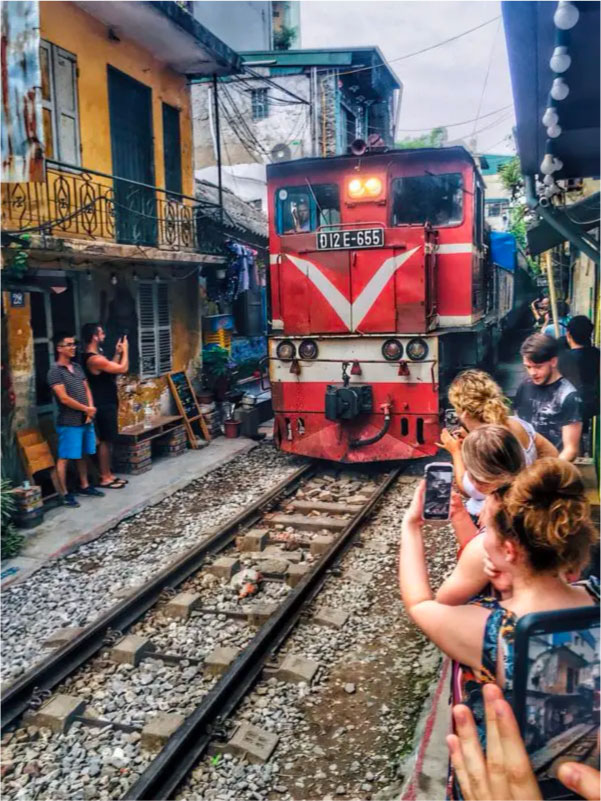 Days 3-4 – HALONG BAY!
Everyone's favourite day… It's time to explore the world renowned HaLong Bay! Today we'll drive from Hanoi and you'll have two nights sleeping on a boat surrounded by crystal clear water. This globally-popular location, where mountains shoot up from out of the sea, hosts some of the most stunning Asian sunsets and sunrises! So grab a beer, sit back, take in the views & get working on that tan!
Today will be all about the leisurely vibes as we wake up to breakfast and a morning swim. Make the most of your time on the junk boat & kayak your way around Halong Bay – the views don't get much better than this. It's also home to the almost extinct Cat Ba Langur Monkey (with population size estimated at less than 70 individuals, so make sure to keep your eyes peeled & camera at the ready!). Prepare for a few days in paradise!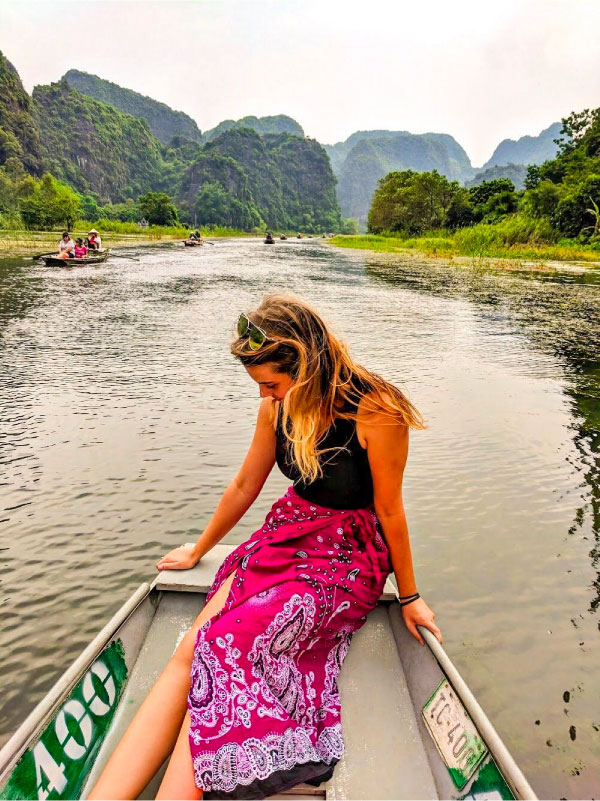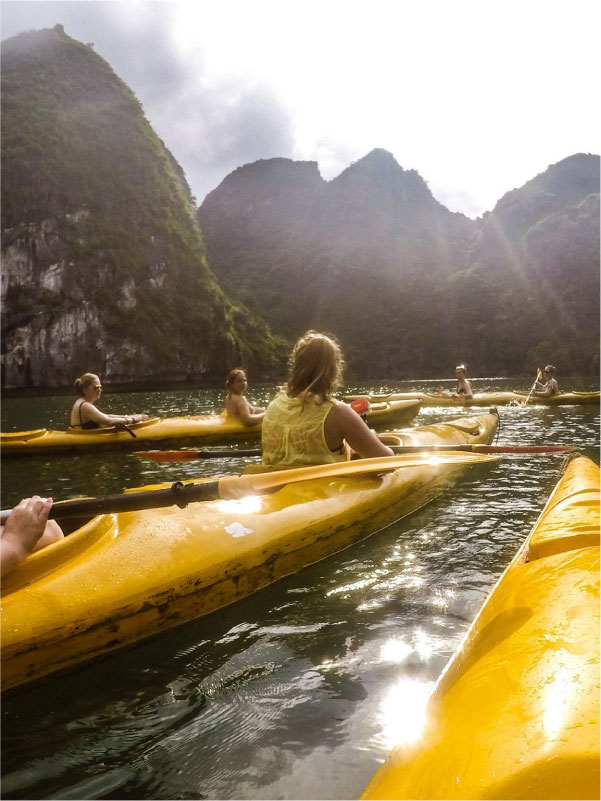 Day 5 – HANOI – NINH BINH – TRANG AN SCENIC COMPLEX
This morning, we will drive to Trang An Scenic Complex in Ninh Binh – a land of several mysteriously deep lakes, another UNESCO World Heritage Site inscribed since 2014. If you've not yet heard of Ninh Binh, give this place a quick google and prepare to be outstanded by the beauty of reflective lakes and towering mountains!
On arrival, we'll stop at a local restaurant for you to get lunch and then take a sampan tour through lush rice fields, rocky outcrops and visit Trang An Complex Landscape. After the trip, you have some free time before we visit the Hoa Lu Ancient temple. To end the day, we'll transfer back to the homestay where you can grab dinner and drinks in this rural paradise.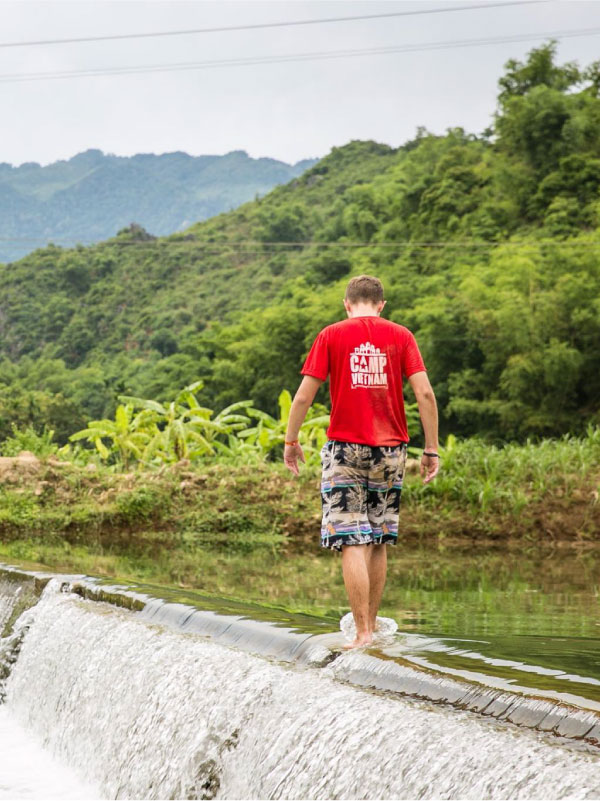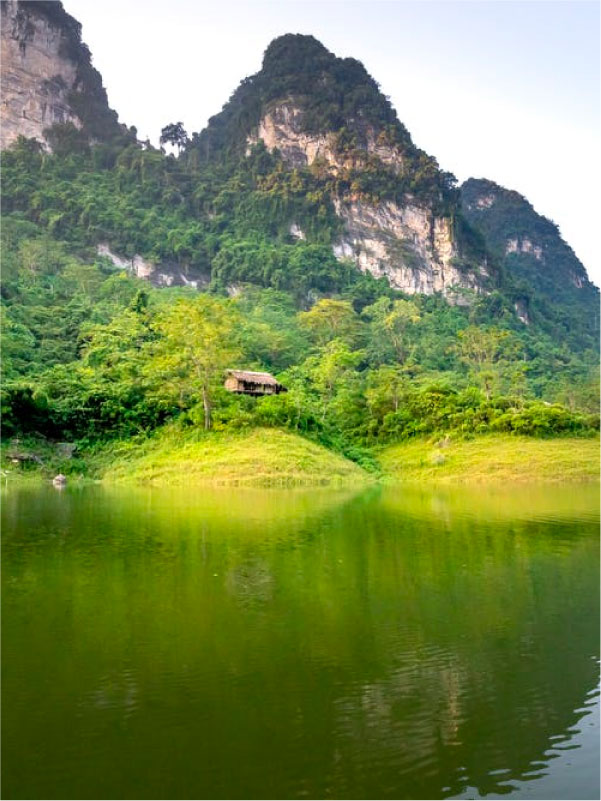 Day 6 – HANG MUA – HOA LU– NIGHT BUS TO PHONG NHA
Prepare yourself for a short hike today as we'll climb 500 steps to the top of Hang Mua Mountain. The climb is instantly worth it when you lay your eyes on the 360 degree views from the top of Mua Cave Ninh Binh. The landscape and scenery here are insane, and while it's awesome to see these limestone cliffs from ground level, they look even better from above.
After a local lunch, you'll have two options, a bike trip round Tam Coc rice fields or a visit to Bai Dinh Pagoda. Both of these are great fun! You'll have some free time this evening to chill before we hop on to the overnight bus to Phong Nha.
Day 7 – THE DUCK FARM AND THE DARK CAVE
Welcome to Phong Nha! After we arrive at around 6am, you'll have a few hours to drop your bags at the hotel and get some more sleep if you need it, or explore the local area.
Are you ready for The Duck Stop… Don a traditional Vietnamese hat and prepare for fun, laughs, and silliness. After snacks and drinks at a small wooden farmhouse, your hosts will show you into the duck pen where you can feed and play with the mass of ducks (including hundreds of white baby ducklings). This sounds bonkers, but trust us it's the most wholesome, authentic, and random experience you'll ever have. Don't forget to snap an epic Duck selfie whilst you're here too!
After the Duck Farm, get ready for another unforgettable adventure – the Dark Cave. We'll drive to Phong Nha-Ke Bang where you can zipline into caves, chill in mud baths and explore on kayaks. This evening we'll watch the sunset in Bong Lai Valley with some drinks, week one complete – and it was EPIC!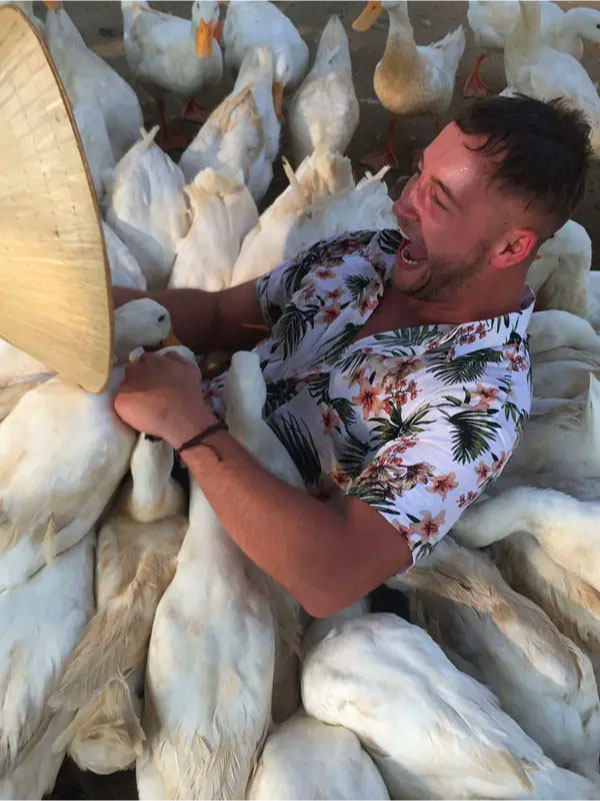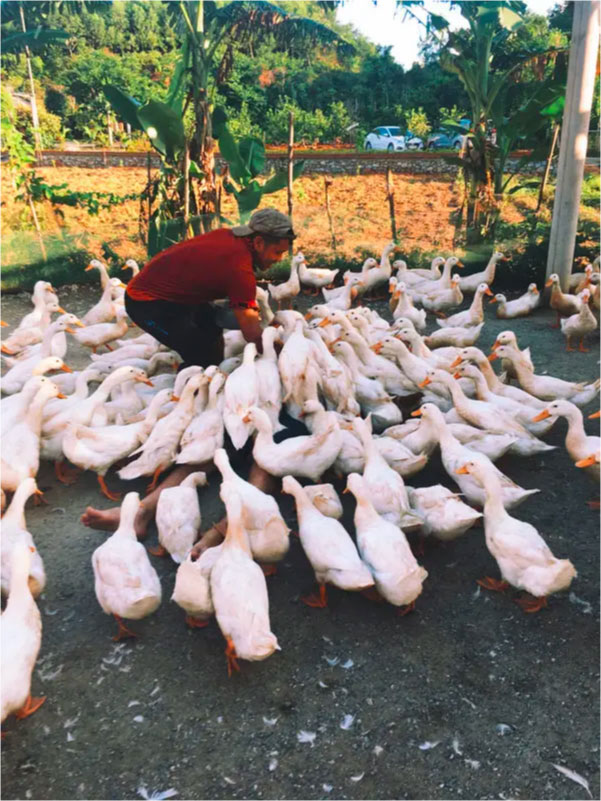 Day 8 – PHONG NHA TO HUE – HUE IMPERIAL CITY
Rise and Shine, prepare for an early start this morning as we transfer from Phong Nha to Hue. Arriving in Hue around 12pm, you'll have time to refresh and chill in your hotel before exploring the 'Forbidden City'. Once home to Vietnam's royalty, it's now a popular destination for tourists due to the history and culture. Prepare to explore an abundance of picturesque Vietnamese temples and pagodas before heading back into town for a group meal and a pub crawl in the evening!
Day 9 – TRAVEL THROUGH HAI VAN PASS TO HOI AN
After breakfast we travel in style to Hoi An. Picture sitting in the back of a vintage open-top Army Jeep, sounds cool right? These vehicles are a great way to see the countryside and breathtaking views. 
The journey to Da Nang is around 5 hours, so we'll be making various stops along the way –  including stopping for lunch by the beach and several viewpoints overlooking the coast and old ruins, perfect picture opportunities. We arrive in Hoi An at around 4pm and you can spend the evening exploring the local area. By night, the city is lit with hundreds of lanterns which is really beautiful and picturesque.
Day 10 – VISITING RURAL VILLAGES TEACHING ENGLISH IN PAGODA/ LOCAL SCHOOL IN HOI AN
Now it's time to make a difference in the local community whilst teaching English; with fun games and activities, you'll help the Vietnamese children improve their English skills. This really is a rewarding experience and is often our travellers favourite day on the trip. Our dedicated Camp Reps will help you prepare for your time teaching, helping with lesson plans & potential activities. 
After class, the evening is yours to spend as you wish. Why not make spring rolls with the locals, try sugar cane juice from the farms, or just head to the beach and top up your tan, you decide!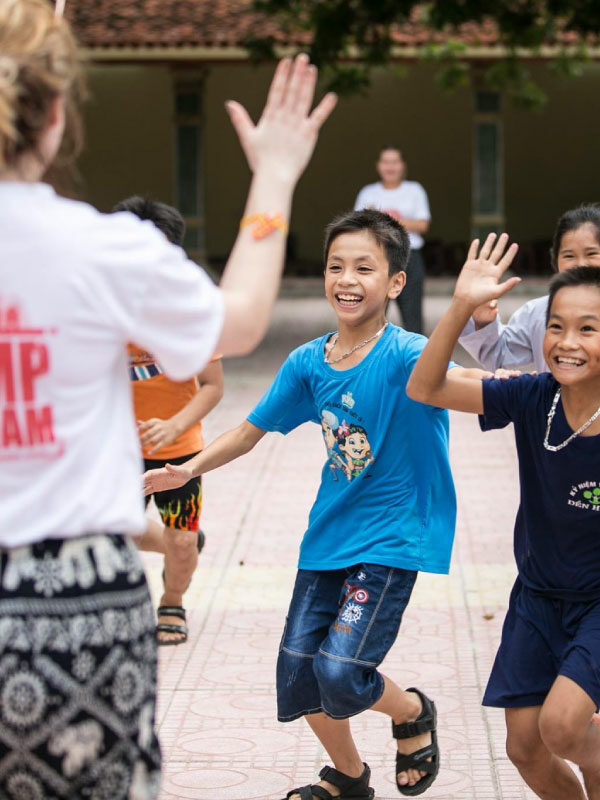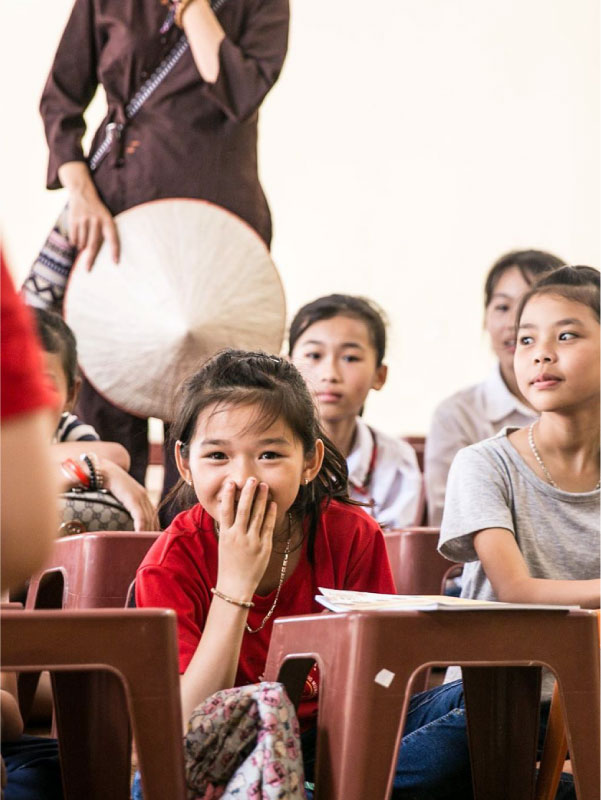 Day 11 – AN BANG BEACH DAY – OPTIONAL ACTIVITIES: DA NANG WATER RAFTING/GOLDEN HAND
Annnnd relax, today is a free day to chill. Spend your day at An Bang beach and pop round the town for delicious Vietnamese cuisine. Hoi An is definitely a place for foodies, the most popular dishes here are: wontons, bahn mi baguettes and prawn dumplings.
If you'd rather another action packed day, speak to one of our reps and they'll be happy to help organise something, they are the experts after all. You could go on a snorkeling tour at Cham Island, which is just an hour's speedboat away from HoiAn. Or if you're feeling a little more adventurous, Hoa Phu Thanh White Water Rafting in Da Nang is a lot of fun!
Day 12 – BASKET BOAT ADVENTURE – BEACH CLEANUP
After breakfast, we'll take the eco green trip to Cam Thanh village. There's a whole host of activities to take part in, including boat racing, crab catching, exploring on bamboo basket boats, and much more. 
In the afternoon we'll come together and contribute to the timeless beauty of Hoi An with a beach cleanup. Beach clean-ups are an extremely important event to help mitigate the problems caused by ocean debris and danger inflicted on marine life as a result of plastic pollution – so it's critical that we do our part with our very own beach cleanup! The rest of the evening is yours to spend how you wish.
Day 13 – HCMC – WAR MUSEUM & WALKING TOUR
Rise and shine, it's an early start to the airport for a flight to HCMC, aka Saigon. Once landed you'll have a transfer waiting and you'll head straight to the hotel. Unpack, chill and get ready for this afternoon – a walking tour to the War Museum, Saigon's Cathedral Church and old fashioned Post Office. You'll have worked up an appetite by now so a trip around the Saigon Food court should do the trick, street food heaven!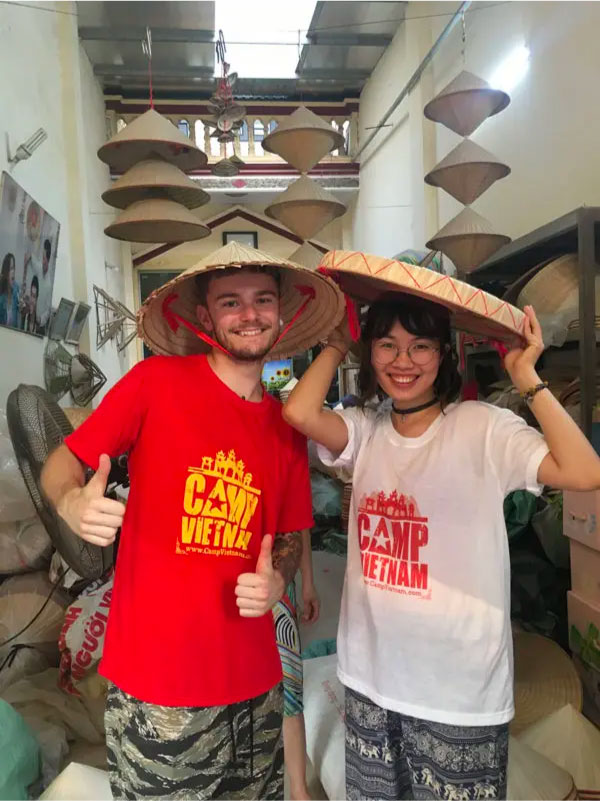 Day 14 – HCMC PHNOM PENH –BY BUS
Goodbye Vietnam, Hello Cambodia!  Let the second half of your Camp adventure begin. We've got a 6 hour journey to Phnom Penh, so make sure to have your passport and visa letter ready (Cambodian visa costs not included). In the addictive mayhem of Cambodia's capital City you will have free time to carry on your explorations. We recommend snacking, sipping and slurping your way through the city because the local cuisine is incredible – have a wander around the bustling city before settling down for the night and a jam-packed next few days!
Day 15 – PHNOM PENH LIVING HISTORY
Fill your boots at breakfast at the Phsar Kandal market because there's a full day of walking ahead. Next stop, the old French Quarter – home to fine colonial architecture and gorgeous restored buildings. On to Wat Phnom Buddist temple, Raffles Hotel – the old pot building, the disused train station, and Cambodia's largest market. 
We'll learn about the horrific Khmer Rouge rule by visiting the mass graves of the Killing Fields and the Tuol Sleng Genocide Museum, the museum was once a high school and was then converted into a detention and torture centre, it now educates people about this dark time in Cambodian history (not for the faint hearted!). At the end of the day we'll head back to the Base Villa and you can spend the rest of the evening relaxing.
Day 16 – PHNOM PENH SIEM REAP
Today is a free day and you'll take the bus from Phnom Penh to Siem Reap. Upon arrival you can check into the guesthouse and spend the rest of the evening with your fellow Campers. We recommend trying a few of the local cocktail bars and street food markets! Prepare for an early rise tomorrow morning for an epic day ahead visiting incredible Angkor Wat!
Day 17 – TUK TUK ANGKOR SUNRISE & TOUR
The 4:30am start is definitely worth it for the sunrise at the temples of Angkor. The Angkor Archaeological Park is visually, architecturally and artistically breathtaking and one of the most important archaeological sites in South-East Asia if not the world. Considered one of the seven wonders of the world, we arrive at Angkor Wat in time to see the sun rise over the water and temples. It's one of mankind's greatest achievements, and the intricate carvings demonstrate the skill of the Khmer builders. Cameras at the ready, prepare to be amazed by this incredible sight!
After sunrise, it's time to explore the jungle temple of Ta Prohm which is particularly amazing in the early morning when all you can hear are the sounds of the jungle, before the crowds arrive. There's an optional 1k walk from the South Gate of Angkor to a hidden temple, but if you don't fancy that, there's the temples of Bayon, Baphuon, Terrace of Elephants and Leper King. 
After the most amazing day exploring, the evening is yours to relax or head out for some dinner.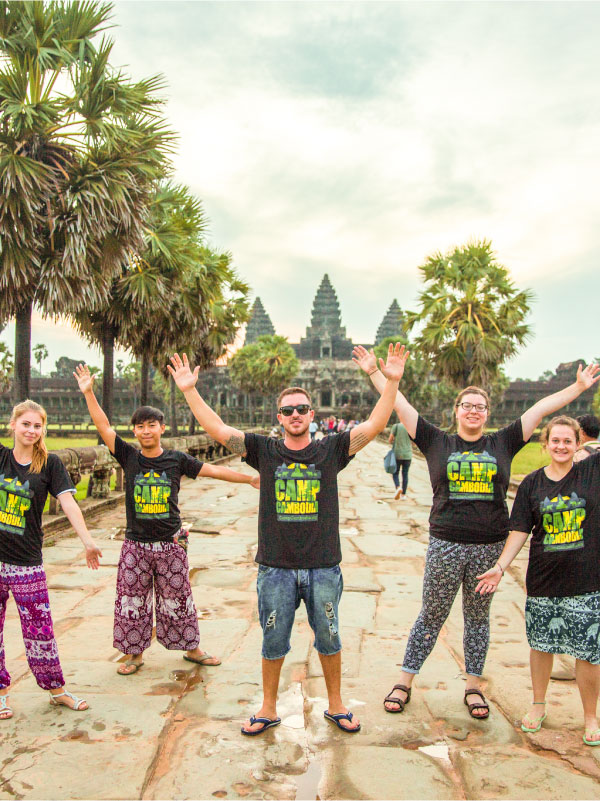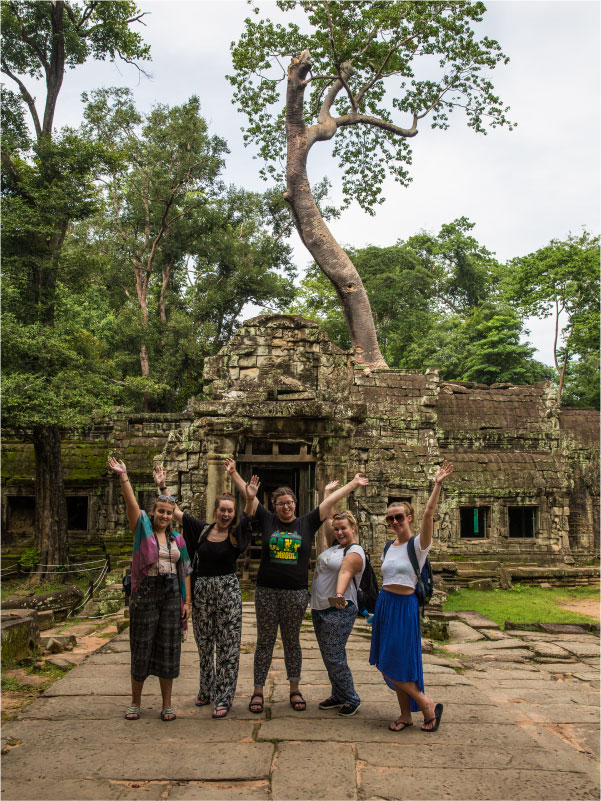 Day 18 & 19 – COMMUNITY DEVELOPMENT WORK & SERVICE LEARNING
The local community at Angkor Kreav are extremely poor, have no access to English Teaching, basic health checks and currently the community has no communal area to shelter from the sun. So, after breakfast, we'll depart to the project site where you can help shape the future of the community and improve the lives of the people in Angkor Kreav. Community work may include teaching in the local villages or construction work (activities may vary dependent on the needs of the community & time of year). 
At the end of the day we'll head back to the hotel for some well deserved rest and drinks. Enjoy one final squad meal before the Camp wraps up. Say goodbye and make plans to reunite soon – Camp Thailand, perhaps?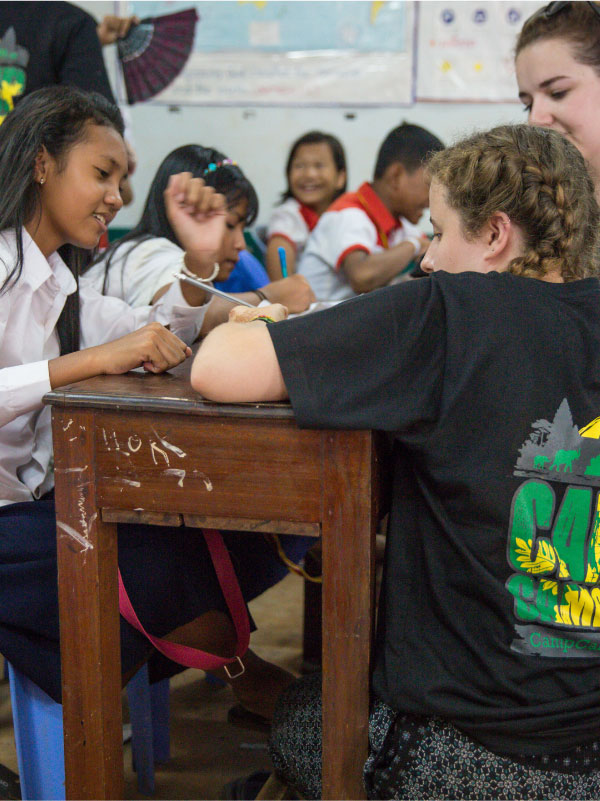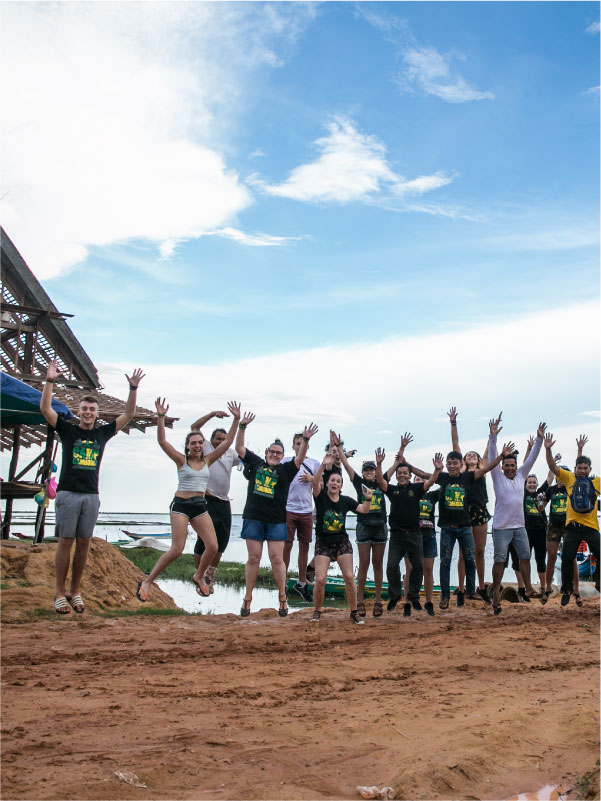 Day 20 – DEPARTURE DAY
Home time! This is your final day at Camp and we will be arranging a drop off at Siem Reap international airport for you to get your flights home or to your next destination. We'll miss you!